Italfama
was founded in 1976 near Florence, thanks to Aldo Marsili and his passion for chess, but especially thanks to his abilities in craft work and his artistic passion.
The first chessboards made for his friends were so successful that very soon, what started as a simple hobby, became a fully-fledged life's work, making
Italfama
a world class factory in the production of high quality chess pieces and chessboards.
Italfama
offers chessboards in both classic and contemporary style, as well as historically themed chess pieces such as those from famous battles and characters from ancient and modern history.
To create the
Italfama
chessboards, precious materials are carefully chosen, like elm and walnut briar wood, semiprecious stones like onyx, Carrara marble and malachite, while the chess pieces were fashioned with the use of many metals, including solid brass and bronze, in various finishes that span from classic satin to refined gold and silver.
1999 was an important year for
Italfama
, they acquired the "Piero Benzoni" factory in Milan, famous for the production of exclusive chess pieces and chessboards in limited editions, hand made in bronze using the lost wax casting process, an ancient method handed down by the famous sculptor Benvenuto Cellini in 1550 and still ongoing in the jewellery sector. These exclusive masterpieces are refined with 24k gold and silver.
With their entry in the company, the sons Tommaso and Marco contribute with several modern and innovative ideas, which results in the launch of new products lines, new finishes and new company strategies.
Italfama
opened it's own official point of sale in Florence in 2002, in Borgo San Jacopo near Ponte Vecchio, and has already become a classic destination for many dedicated customers from all over the world to visit Florence. In 2005
Italfama
made it's debut in the online market with an elegant website reserved for retailers www.italfama.it.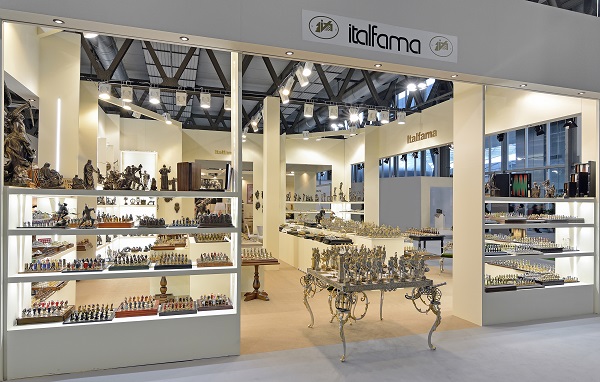 The year 2017 was another fundamental one.
Italfama
acquired the factory "La Bottega del Vasari" in Milan, which itself specialized in the production of artistic chess pieces and chessboards made in bronze, to point out the worldwide uniqueness of its chessboards completely hand made.
Since 40 years
Italfama
exhibit at the most important international fairs of home décor, gift and furniture, in Italy in Milan and abroad in Germany, England, Russia and soon in USA and Asian countries. Recenty
Italfama
celebrated its 40 years of business, and continues its own hand made work, still paying a great deal of attention to its customers needs and always with the same values: great passion, commitment and highest care down to the last detail.